It is really upsetting to see people leave their pets in a hot car and many times with the windows closed. Pets are not able to control body temperature as efficiently as humans. JUST A FEW MINUTES IN A HOT CAR COULD CAUSE IRREVERSIBLE DAMAGE OR DEATH!!!  Even if the car is in the shade, it is not good enough. Even at home, we keep the air conditioner on just for our dog because he suffers in the heat.
It is also upsetting to see pets left outside on a chain while the owner is doing their chores or eating at a restaurant! Not only can anyone can just take the pet, the pet feels abandoned. I see their tails always down, which is a sign of distress. And under the hot sun, they suffer terribly.
There are many things pet owners need to understand if they want to have a healthy and happy pet. It's not just helping abused animals, it is also helping 'un-abused' animals to be well taken care of.
For more information on dogs in a hot car, see PETA's  Cruel Practices in Keeping Dogs in a Hot Car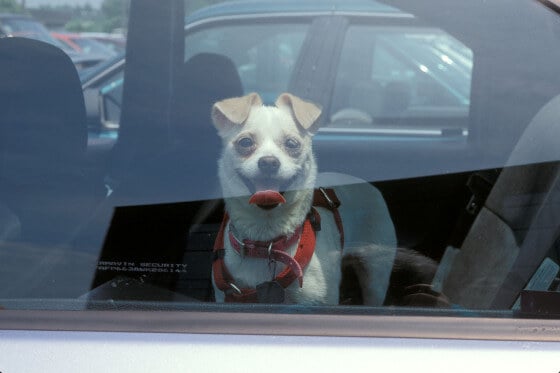 Image reprinted from PETA's indicated article.
Subscribing via email is the easiest way to to stay in touch for latest news, tips, and specials. We invite you to join our subscribers for these updates.
When you subscribe, you will be entered into our monthly drawing to win a vegan cookbook as our gift to you for caring about #HelpingAbusedAnimals.